Name: Tifa Lockheart
Age:20(?)
Eyes:Ruby/Brown
Hair: Dark brown
Occupation:Bar Hostess/AVALANCHE member
Weapon: Glove
Sign:Taurus
Race: Human

Character Description:
Tifa is an old, childhood acquaintance of Cloud's, and though she finds it difficult to admit, she has strong feelings for him. It is Tifa who convinces Cloud to join AVALANCHE. Her bar, Seventh Heaven, is popular hangout for not only AVALANCHE, but other residents in the Sector 7 slums. A strong fighter as well as an optimist, Tifa is an excellent asset to the party of Final Fantasy 7!



Tifa Links:
I absolutely LOVE this page! It can be so hard to find good Tifa pages that don't hate Aerith...but this is one of them!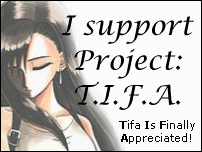 Another GREAT Tifa site! This is Razynne's site, which I absolutely love! She's done a great job with it, so why not check it out? :) Oh! And I'm also a proud member of Project: T.I.F.A.- Tifa is finally appreciated! Go to Ruby Eyes to join, if you'd like! It's a great cause!